2021 Topps Chrome UEFA x Steve Aoki Neon Future Soccer marks another collaboration between the card maker and musician. That means that collectors can expect something bright and colorful.
2021 Topps Chrome UEFA x Steve Aoki Neon Future Checklist Overview
The base set lines up with the main 2020-21 Topps Chrome UEFA release. That means 100 cards from throughout the Champions League.
The overall layout is the same, but sticking with both the set's name and Aoki himself, there are added splashes of neon. The level of tweaks are similar to Topps Chrome Ben Baller Edition Baseball.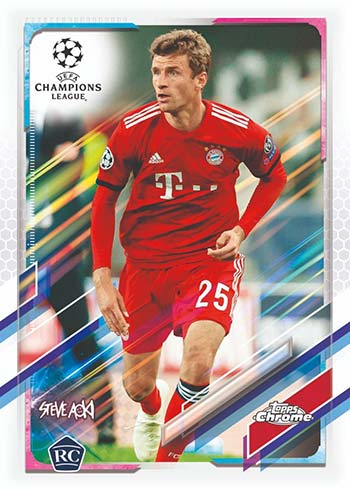 It's Chrome, so that means Refractors:
Neon Future I – /199
Aqua – /150
Neon Future II – /99
Neon Future III – /75
Gold – /50
Neon Future IV – /25
Neon Red – /5
Superfractor – 1/1
Base Autographs are available for 28 players in five levels: Gold (/50), Orange (/25), Blue (/10), Red (/5) and Superfractor (1/1).
There's also three additional insert sets. Each of these is new and not a remix from the earlier set. With 25 cards, Singularity is the largest of the chase sets. All of the featured players are rookies. Neon Futures has a mix of rookies and other young players. Finally, there's Neon Lazers, which spotlights ten top players plus an eleventh card with Aoki.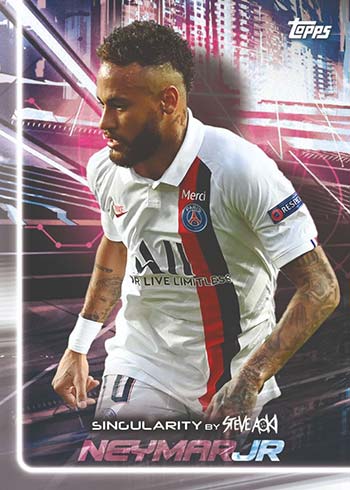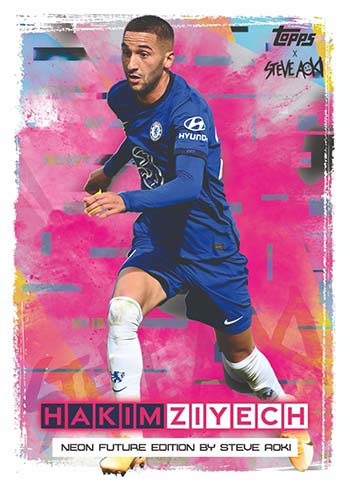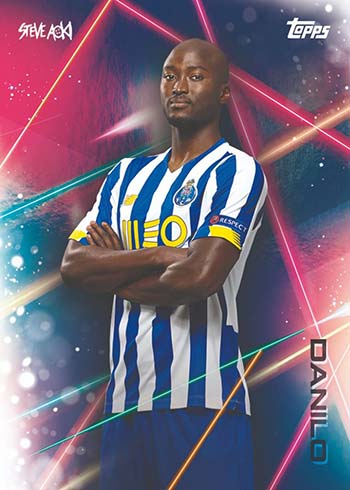 This is the second UEFA collaboration between Topps and Aoki this year. 2021 Football Festival was released as an online-exclusive in June.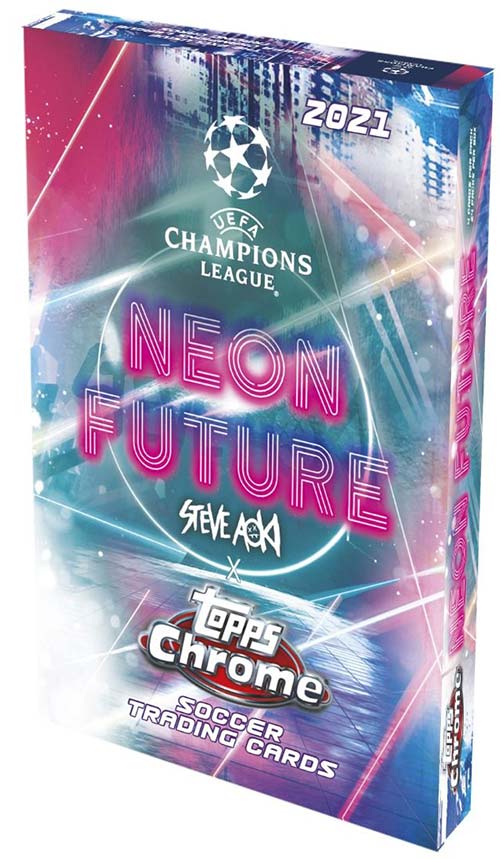 Members of Topps' 582 Montgomery Club got the first chance at boxes with a pre-sale on October 20. Each member had a limit of two boxes at a cost of $200 each. They were made available to the public the following day.
2021 Topps Chrome UEFA x Steve Aoki Neon Future soccer cards at a glance:
Cards per pack: 4
Packs per box: 24
Set size: 100 cards